PCPA will be presenting a different, ground-breaking play each weekend from September 18th to October 24th. Stick around after the readings for talkbacks with the actors, directors, and even the playwrights themselves!
InterPlay is a ticketed event and will be performed LIVE on a Zoom webinar format – so no need to worry if you're camera shy (this format keeps the focus on the performers and panelists).
The cost per play reading is only $5 per viewer!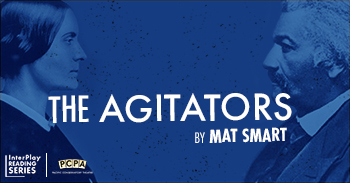 The Agitators
"Do you believe this can ever be a country for all?" The Agitators follows the turbulent and enduring friendship of two of America's greatest agitators: Frederick Douglas and Susan B. Anthony. Mat Smart's historical play of rebellion and revolution echoes powerfully in today's world.
Friday, Sept. 18 – 7pm
Saturday, Sept. 19 – 1:30pm